After learning of the attack at Jumonville Glen, Claude-Pierre Pecaudy de Contrecoeur, the veteran French commander at Fort Duquesne, ordered Captain Louis Coulon de Villiers, Ensign Jumonville's brother, to assail Washington and his force near Great Meadows. De Villiers left Fort Duquesne with nearly 600 French soldiers and Canadian militiamen, accompanied by 100 native allies.
Aware of the onset of a powerful French column, Washington busily fortified his position at Great Meadows. Despite receiving additional reinforcements, Washington's bedraggled force of around 400 men remained outnumbered by the approaching French. Even more concerning, the small circular wooden fort constructed less than a month before– named Fort Necessity - was built in the center of the meadow was poorly situated and vulnerable to fire from the nearby wooded hills that circled the position.
On July 1, 1754, the large combined French and native forces reached the Great Meadows. Washington gathered his troops and retreated into Fort Necessity.
On a rainy July 3rd
Coulon moved his troops into the woods, within easy musket range of the fort.
Washington knew he had to dislodge the Canadians and Indians from that position, so he ordered an assault with his entire force across the open field. Seeing the assault coming, Coulon ordered his soldiers, led by Indians, to charge directly at Washington's line. Washington ordered the men to hold their ground and fire a volley. British regulars obeyed Washington's command, and supported by two swivel cannons, they inflicted several casualties on the oncoming Indians. The Virginians, however, fled back to the fort, leaving Washington and the British regulars greatly outnumbered. Washington ordered a retreat back to the fort.

Coulon reformed his troops in the woods. The Canadians spread out around the clearing and kept up heavy fire on Fort Necessity.
To add to the garrison's troubles, heavy rain began to fall that afternoon, and Washington's troops were unable to continue the firefight because their gunpowder was wet.
Sensing the hopelessness of his situation, Washington agreed to surrender to the French. The surrender terms allowed Washington and his troops to return to Virginia in peace.

The Battle of Great Meadows proved to be the only time that Washington surrendered to an enemy in battle.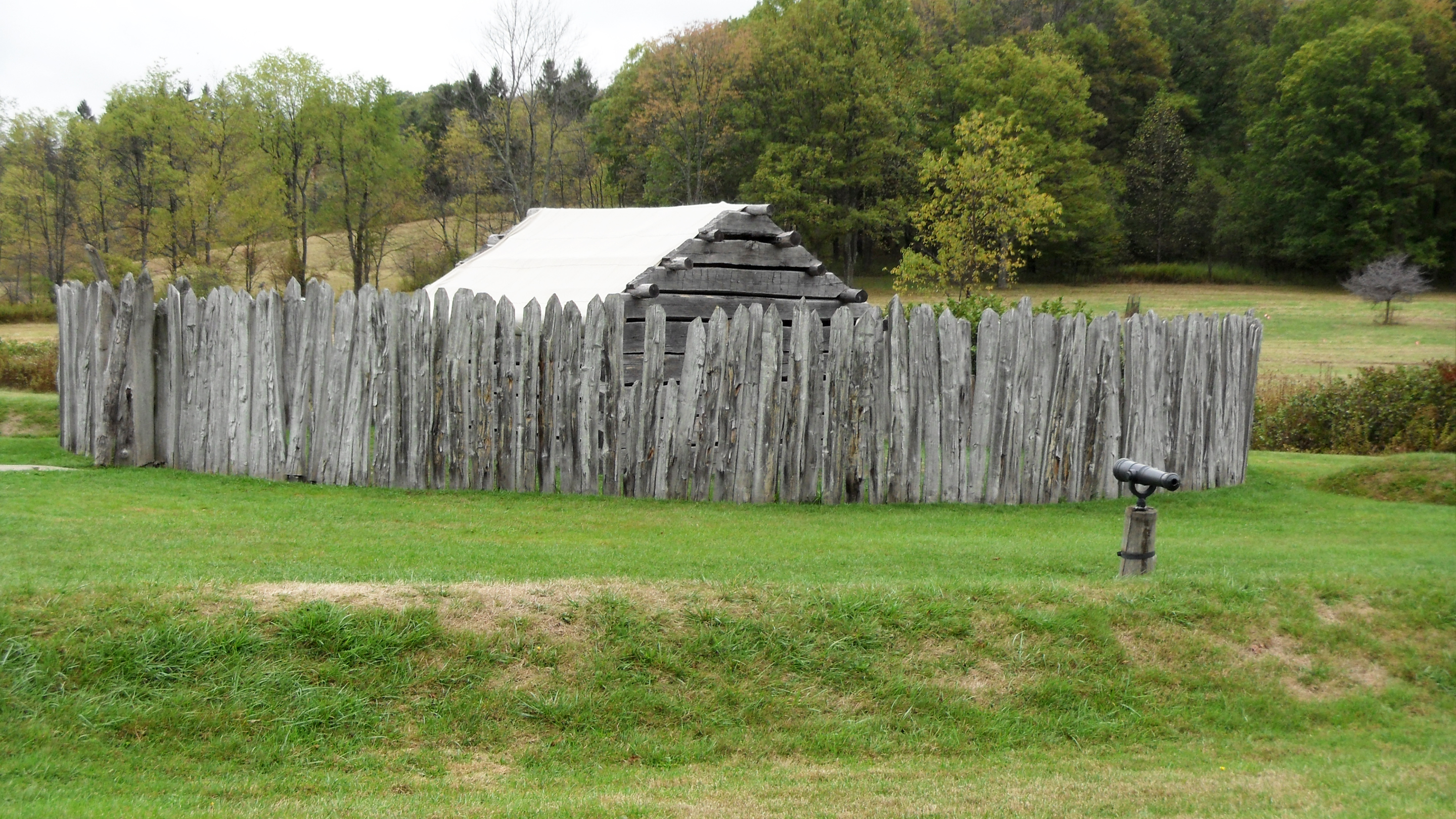 The reconstructed Fort Necessity
______________________________